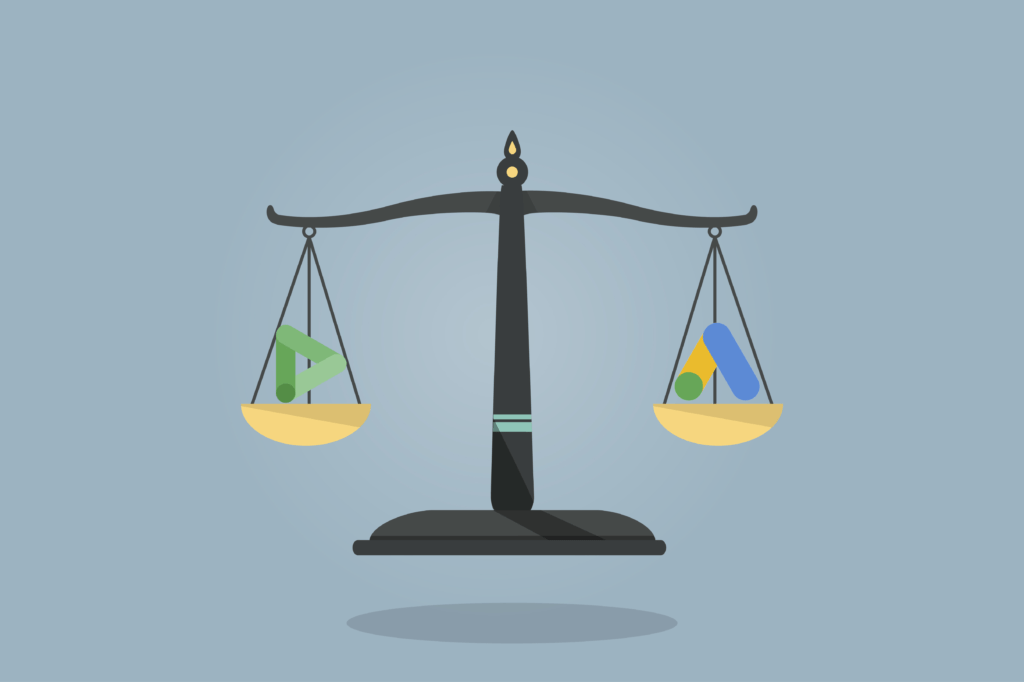 As brands scale up and increase investments in digital advertising, Google provides advertisers with 2 methods of reaching users with display & video inventory: Google Ads and Display & Video 360 (DV360).
At a glance:
Google Ads
DV360
Overview
Self-serve DSP for small/mid-sized advertisers
– Typically transitioned directly from search into YouTube, then display
Self-serve DSP for large/global advertisers as well as media agencies
– Typically transitioned into DV360 from Google Ads as advertiser seek more customised media buys
Inventory
Google AdSense
Google Display Network
Google Ad Manager
Other major third-party ad exchanges (e.g. Yahoo, Magnite, BidSwitch)
Buy Type
Open exchange buying only
Open exchange buying
Private deals (guaranteed & non-guaranteed)
Targeting
Google-defined audiences and categories
Google-defined audiences and categories
3rd-party data segments
3rd-party brand safety filters
Tracking
Via Google Ads Conversion Tag only
Floodlights via Campaign Manager 360
Google Ads is an important platform to advertisers, especially in the early stages, as we solidify our search and video (via YouTube) strategy. The platform continues to be useful to advertisers in comparison with DV360 in one key area: automation.
Automation
Google Ads unlocks the scale of data with all advertisers to maximise the platform's advanced machine learning algorithms. This foundation allows Google Ads to provide efficient, fully-automated performance solutions such as Smart Display Campaigns and Performance Max campaigns where budget allocation and targeting is automatically adjusted to help advertisers find the users who are the most likely to convert to your goal. It provides you with a fully fuss-free approach to campaign set-up, while driving your goals.
Creatives are also automated in the same way through dynamic formats such as Responsive Display Ads that allow the campaign to run with minimal inputs and without complicated creative production. This makes Google Ads easy-to-use as platform settings can be automated while the user interface and structure is familiar to small advertisers who typically start out with search.
Across various other parameters, DV360 offers superior capabilities, in terms of the breadth of product features that are available as well as depth of similar targeting options:
1) Scale beyond Google
DV360 gives you access to product solutions outside of Google while you can continue to leverage on Google technology. Basically, you get access to third-party everything (data sources, inventory, brand safety coverage) on the platform. [Editor's note: Well, almost] DV360 does this through direct off-the-shelves features from third-party ad technology companies, and through direct API integrations for you to connect with other tools that are part of your marketing cloud (data management platforms, customer data platform).
This may seem to be unimportant (All hail, Google!) but it allows you to activate your campaigns and reach audiences that are known and defined by other technologies. This essentially allows you to ensure that you can track AND reach users by non-Google definitions, creating alignment if those users are accessed on your other platforms.
In other DSPs, interestingly, you can get access to Google's ad inventory but you will not be able to use it together with Google audience targeting (as it is only possible on Google Ads & DV360).
2) Marketing Sophistication
Direct integration with platforms that exist within your marketing cloud allows big brands to create a cohesive marketing strategy that goes beyond Google Ads' basic capabilities.
DV360 is most famously known for its integration with CM360, an ad server that can serve as a central source of creative hosting and audience measurement. This allows you to bring in advanced measurement that can be tracked and used across multiple platforms.
Dynamic creatives can be built and pushed in directly to DV360 from external creative platforms to allow unique creative concepts to be delivered beyond standard banners and videos.
3) Direct Publisher Access
DV360 allows you to liaise directly with publishers and book custom media buys on a private basis with your selected sites and apps. The platform also can be used to give you access to higher priority inventory on sites and apps, which Google Ads cannot offer.
Conclusion
While there is huge potential in DSP usage (DV360 vs Google Ads, in this case), there is an obvious area of concern when using DV360: Fees. In comparison with Google Ads, most features on the platform are supposedly "free", while DV360 shows clear charges for usage of the product (Platform Fee) and its features (Audience List Cost, Tech Fee).
The key issue here is that costs on Google Ads are not fully transparent as they are baked into the media cost, which makes it hard to do a fair comparison. All in all, DV360 gives us a little bit more transparency in this respect, as we start to see and understand some of the costs involved in the programmatic supply chain.
Image Attribution
Balance scale vector created by rawpixel.com via freepik