LinkedIn is the largest professional social network available in the world. The site boasts about 224 million users in APAC alone, and of the 25 supported languages, 10 of which are Asian. In this article, we will walk you through how to set up a campaign on LinkedIn Campaign Manager and reach these audiences.
For the most up-to-date user statistics on LinkedIn, you can refer to their publicly available page here. If you like other relevant statistics on LinkedIn, you can head over here for more. It covers all sorts of metrics and even provides the source link to some of them for your reference, such as:
LinkedIn Financials and Info
LinkedIn Demographics Statistics
LinkedIn Content Marketing Statistics and Info
LinkedIn Usage Statistics
With such a valuable set of audiences, LinkedIn allows marketers to reach out to these audiences through their LinkedIn Campaign Manager platform. Unlike the DSPs we have covered, which typically require a contractual agreement and/or minimum commitment to get started, this platform is free to access for anyone with a valid company account on LinkedIn.
LinkedIn Hierarchy
Object hierarchy in LinkedIn Campaign Manager is simple. There are four levels:
Account

This usually represents a Company on LinkedIn; however, it could be further split by business units, products, or markets depending on preference tied to a single Company. Account-level houses key components such as Matched Audiences, Lead Gen Forms, and Conversion Tracking Data.

Campaign Group

It manages the budget, flight dates, and group multiple Campaigns. Recommended to

Campaign

This is where your LinkedIn tactics come to life – all the targeting parameters are set here, together with bidding strategy and ad assignment.

Ad

This is what your target audience eventually sees. You would be assigning an Ad to a Campaign.
LinkedIn Campaign Setup Steps
1) Create Campaign Group
Ensure you are in the Account view.
Go to the "Create" dropdown and select "Campaign Group."
Enter the relevant details and click "Create" at the bottom right-hand corner once you are done.
2) Create Campaign
Ensure you are in either the Account or Campaign Group view.
Go to the "Create" dropdown and select "Campaign."
On the left panel, you will see a nicely laid out 4-step process for the campaign creation process. For Step 1, ensure you have selected the "Campaign Group" that you created earlier.
For step 2, you will see six sections that you'll have to complete:
a. Firstly, Objectives. We'll be selecting "Brand Awareness" for this guide. The steps for the other objectives will be similar.
b. Next, select or build the audiences you want to reach on LinkedIn.
c. Following this, you can select your Ad format and Placements.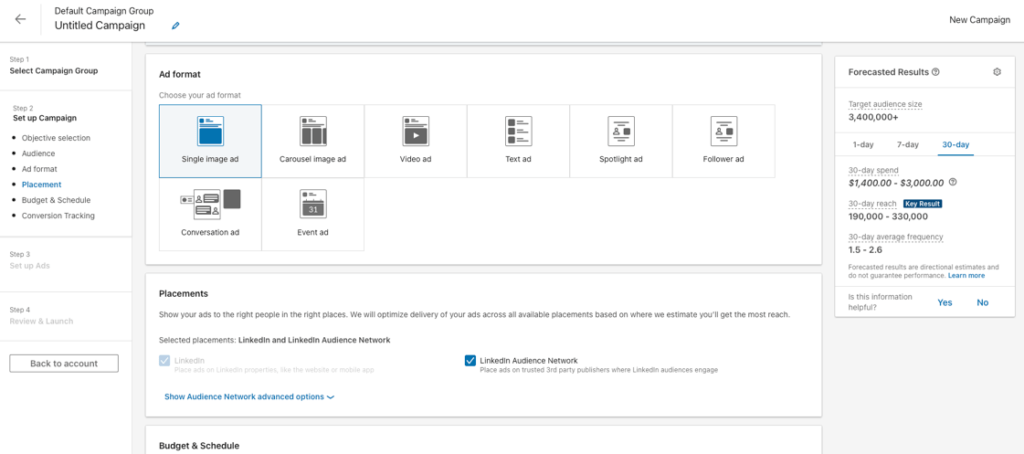 d. Lastly, you can set your Budget, Schedule, Bidding, and Conversion Tracking.
Budget & Schedule: We recommend setting a lifetime budget with a fixed start/end date for simplicity. If you prefer to monitor/adjust your spending daily, you may opt for the daily budget options.
Bidding: Selection here depends on how strict your KPI is. You have the option for auto or manual bidding/optimization.
Conversion Tracking: While this is optional for most objectives, we highly recommend enabling this since it allows you to analyze your audience's movement from the LinkedIn platform to your website.
e. Now that you're done, you are ready to move to the Ad(s) creation step by clicking "Next."
3) Create Ad(s)
Within this section, you have two options to run ads on LinkedIn.
a. Create new ad
This leads to a new ad creation depending on the ad format you selected earlier.
b. Use existing content
This will bring you to a content library page of all the LinkedIn posts you have published on your account.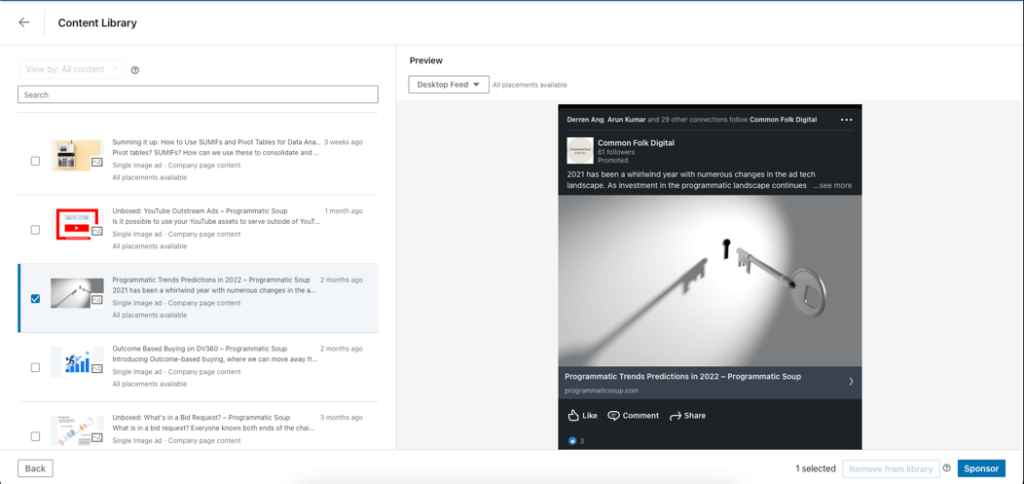 Once you have decided on the ad you want to show, you can review them on the overview page, including adding tracking by clicking on the "…" icon.

4) Check campaign
Lastly, before you confirm the setup for launch, LinkedIn provides an excellent overview page of your settings, targeting, and ads for you to review. Once you've QA-ed and are happy with everything, hit "Launch Campaign."
Hopefully, this guide will prove helpful in setting campaigns on LinkedIn.