Today, we will be exploring how to set up campaign in The Trade Desk, aka TTD. If you have not heard of them before, TTD is one of the biggest independent DSPs. This means that big tech companies do not own TTD, unlike its competitors like DV360 (Google), Xandr (AT&T), Amazon DSP (Amazon), or Amobee (Singtel).
While being a pureplay may seem to put TTD at a disadvantage with the lack of Owned & Operated (O&O) data or inventory, it compensates through best in class integration and adoption of the latest and emerging Programmatic technology. We will be exploring the differences between DV360 and TTD in another post, but in the meantime, let's dig into how a campaign is set up within TTD!
TTD Hierarchy
Object hierarchy within TTD is very similar to what you will find in DV360 and may seem less complex for some. There are 4 levels: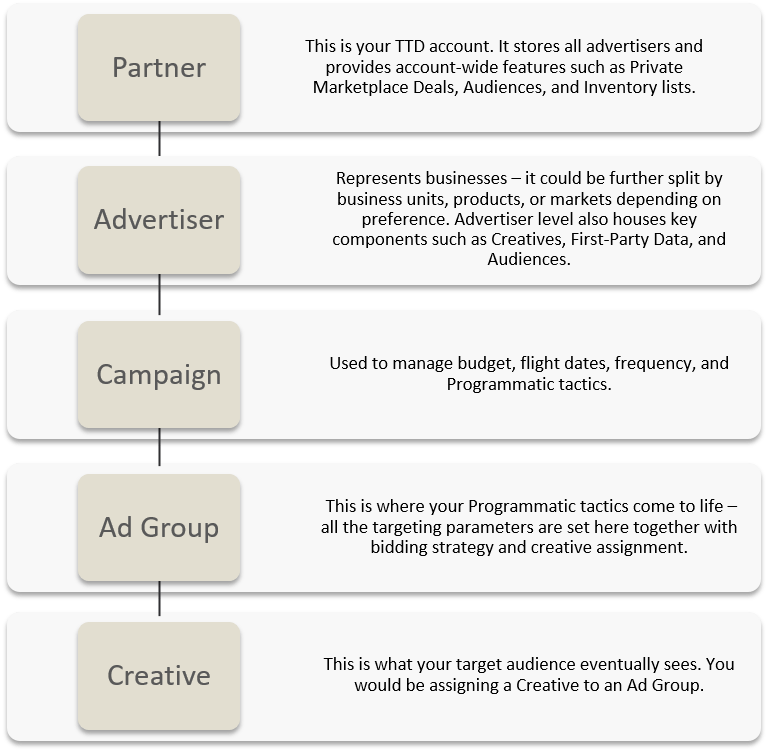 Partner

This is your TTD account. It stores all advertisers and provides account-wide features such as Private Marketplace Deals, Audiences, and Inventory lists.

Advertiser

Represents businesses – it could be further split by business units, products, or markets depending on preference. Advertiser level also houses key components such as Creatives, First-Party Data, and Audiences.

Campaign

Used to manage budget, flight dates, frequency, and Programmatic tactics.

Ad Group

This is where your Programmatic tactics come to life – all the targeting parameters are set here together with bidding strategy and creative assignment.

Creative

This is what your target audience eventually sees. You would be assigning a Creative to an Ad Group.
TTD Campaign Setup Steps
Let's jump into the steps to get a campaign up in TTD.
Note: Click on the images to enlarge.
1. Create a Campaign
Ensure you are in the Advertiser view.
Ensure you are in the Advertiser view.
2. Click +Campaign below the chart and you'll see this pop-up: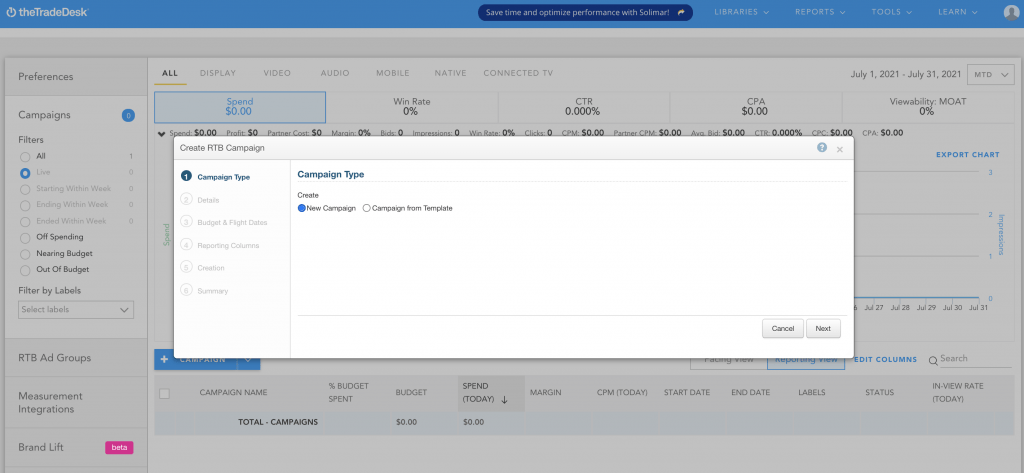 Follow the steps and enter key non-optional fields such as Campaign name, Pacing, Budget, and Flight dates.
2. Create an Ad Group
Ensure you are in the Campaign view.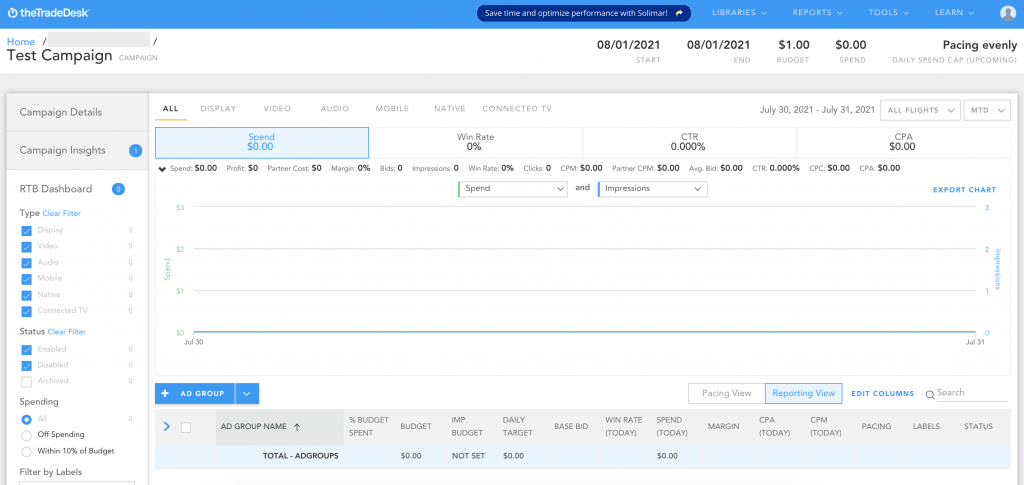 Click + Ad Group, and it should open a separate tab with a pop-up to create an Ad Group within 4 simple steps:
(i) Select the appropriate Media Type and fill in the necessary fields within the step, such as Ad Group name and Goal. The most common Media Types are Display, Video, and Native; selection differs by the device type, and ad environment configuration set initially.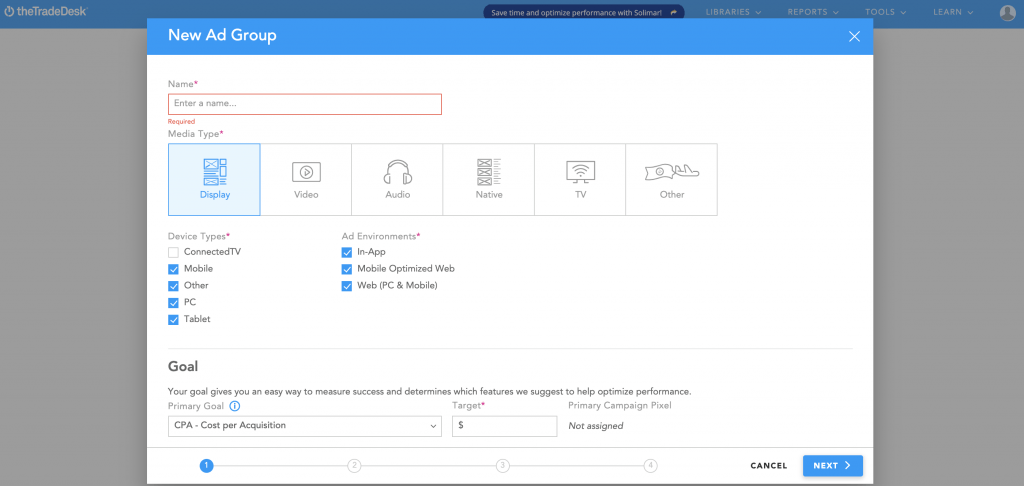 (ii) Next, select Audience, Frequency, and Geography where you want to show your ad.
(iii) Assign Creatives and add any specific inventory you have.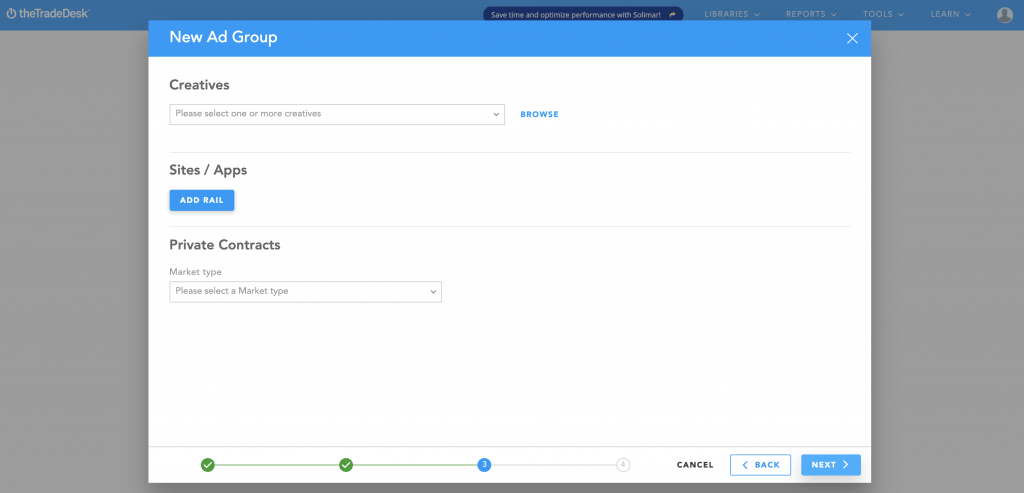 (iv) Input Pacing, Budget, and Bid.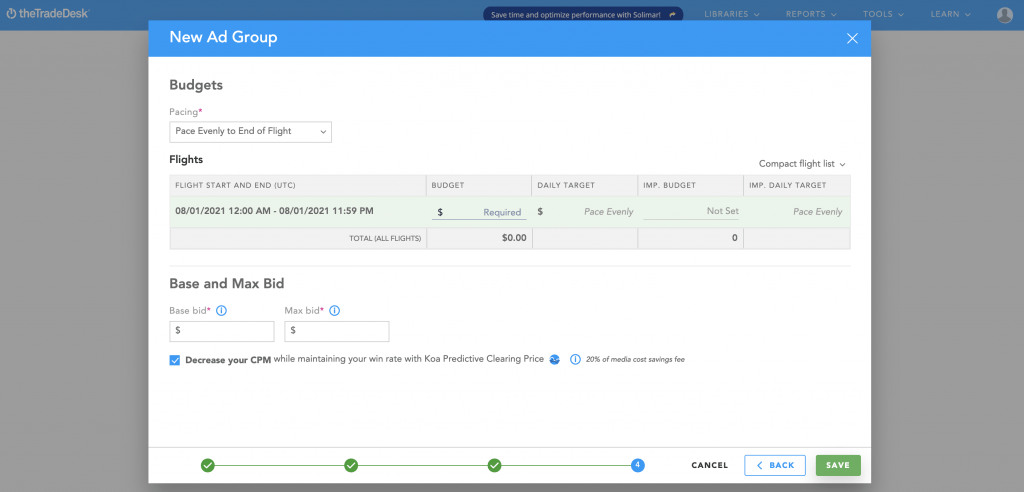 3. Add other targeting if any
Congratulations! You've now completed your very first Ad Group. Note that what we went through was the 'express' setup process which only has essential targeting. If you have other targeting in mind, you can head directly into the Ad Group to apply them.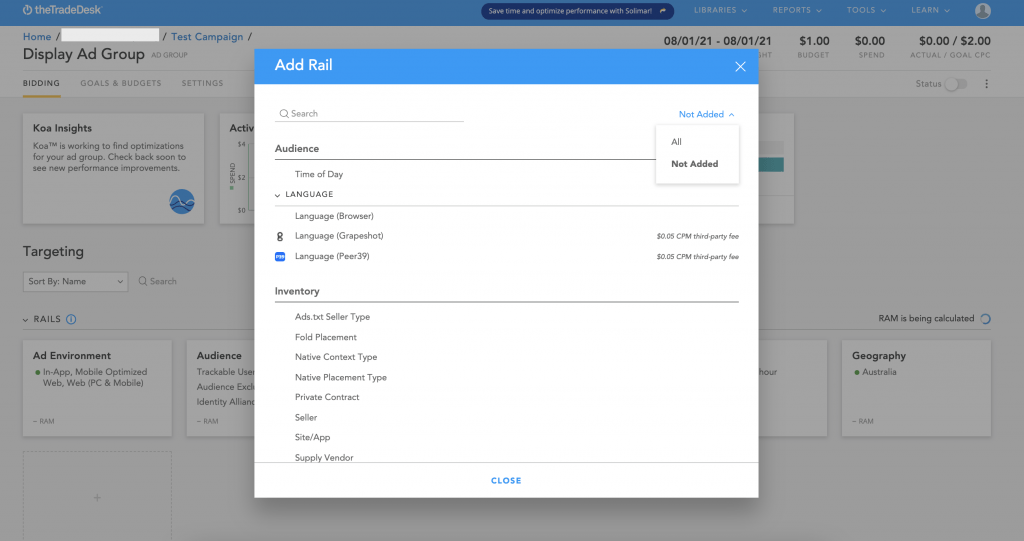 4. Launch your campaign!
Repeat Steps 2-3 until you have all the Programmatic tactics set up as line items. Then your campaign will be good to launch after final checks!
Hopefully, this guide will give a quick snapshot/refresher on how to set up campaigns on TTD.